August 1, 2018
Take Time to Make Healthy Habits
Keeping a food journal may take an extra 10 minutes from your day but it could help you keep a healthy weight. A
new study
found that self-monitoring behaviors, preparing meals at home, and eating at regular intervals enabled women to maintain weight loss for at least 12 months.
Research Study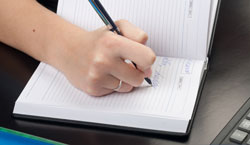 The study included 123 postmenopausal women who were overweight or obese who enrolled in a weight loss program. Tracking food increased weight loss by an average of 3.7%. While maintaining a food journal is researchers' "number one piece of advice" for weight loss other strategies like making meals at home, self-weighing, exercise, and keeping a consistent eating schedule can help. Though skipping meals may seem like it could boost weight loss by reducing caloric intake, it actually lowered weight loss by 4.3%. Eating out frequently, and particularly eating lunch out, decreased weight loss by at least 2.5%.
Another recent article from
The
New York Times
analyzed methods for maintaining a regular exercise routine. It turns out that many people who regularly exercise don't do it for reducing health risks-- it simply makes them feel good.

Multiple Benefits
Another reason to feel good about exercise and weight loss: both can relieve
back pain
naturally.
August 1, 2018
Low back pain can be a serious problem when you're expecting: A recent study shows that 61% of women report back pain at some during pregnancy.

"Despite the apparent impact it has on women, many cases of low back pain of pregnancy go unreported to prenatal providers and/or untreated," researchers publishing in the Journal of Midwifery & Women's Health wrote. Unfortunately, many conventional treatments for back pain (like drugs, surgery or steroid injections) aren't an option during pregnancy. So what should women in debilitating discomfort do?
Researchers decided to study the effects of chiropractic care on 17 women with low back pain lasting an average of 21.7 days. The intensity of the back pain was 5.9 on a 1-10 scale, and the onset of pain occurred at 20.6 weeks into the pregnancy.For 28% of women, pregnancy was the first time they ever have experienced intense back problems and 75% said they had not suffered from lower back pain prior to pregnancy.

Each study participant was treated with chiropractic care according to the particular symptoms that the patient was experiencing. The authors reported the following:

About half of the women were self-referred, and the other half were referred by their obstetrician.
The average time to reach clinically significant pain relief was 4.5 days, while the range was from 0 to 13 days after the initial treatment.
The average number of chiropractic treatments necessary to reach clinically relevant pain relief was 1.8.
The pain levels decreased from the 5.9 at the beginning of the study to 1.5 at the end.
The patients received between 3 to 15 treatments, with the average being 5.6.
One patient did not experience clinically significant pain reduction.
There were no adverse reactions reported by any of the patients.
This corroborates other studies showing that chiropractic offers a safe solution for pain while you're expecting. For instance, a
study
published in the journal
Chiropractic and Manual Therapies
found that 85% of pregnant patients had significant improvements in pain within three months of receiving chiropractic treatments for back and pelvic problems. Another study showed that chiropractic was more effective than standard medical care for alleviating pregnancy-related back pain. In both studies, there were no serious adverse effects of treatment.
Chiropractors use a low-force, gentler style of adjustments when caring for mothers-to-be. Plus, women do not have to worry about the potential impact that painkillers may have on a growing fetus. Instead chiropractic offers drug-free, natural relief to ensure your pregnancy is as comfortable as possible.
References
Lisi AJ. Chiropractic spinal manipulation for low back pain of pregnancy: a retrospective case series. 2006;51:e7-e10.
Peterson CK, et al. Outcomes of pregnant patients with low back pain undergoing chiropractic treatment: a prospective cohort study with short term, medium term and 1 year follow-up. Chiropractic and Manual Therapies 2014;22(1):15.
George JW, et al. A randomized controlled trial comparing a multimodal intervention and standard obstetrics care for low back and pelvic pain in pregnancy. American Journal of Obstetrics Gynecology 2013;208(4):295.e1-7. doi: 10.1016/j.ajog.2012.10.869.
July 31, 2018
More and more children are receiving chiropractic care and there's a good reason why: chiropractic provides safe, natural treatment for a number of conditions while promoting wellness.

Multiple studies point to the safety of chiropractic for kids. In a
2012 survey
of European chiropractors, fewer than 1% of children experienced side effects from chiropractic treatments, and those side effects were all mild,1 This confirms the results of three other studies in which no serious side effects were reported in pediatric patients receiving chiropractic treatment.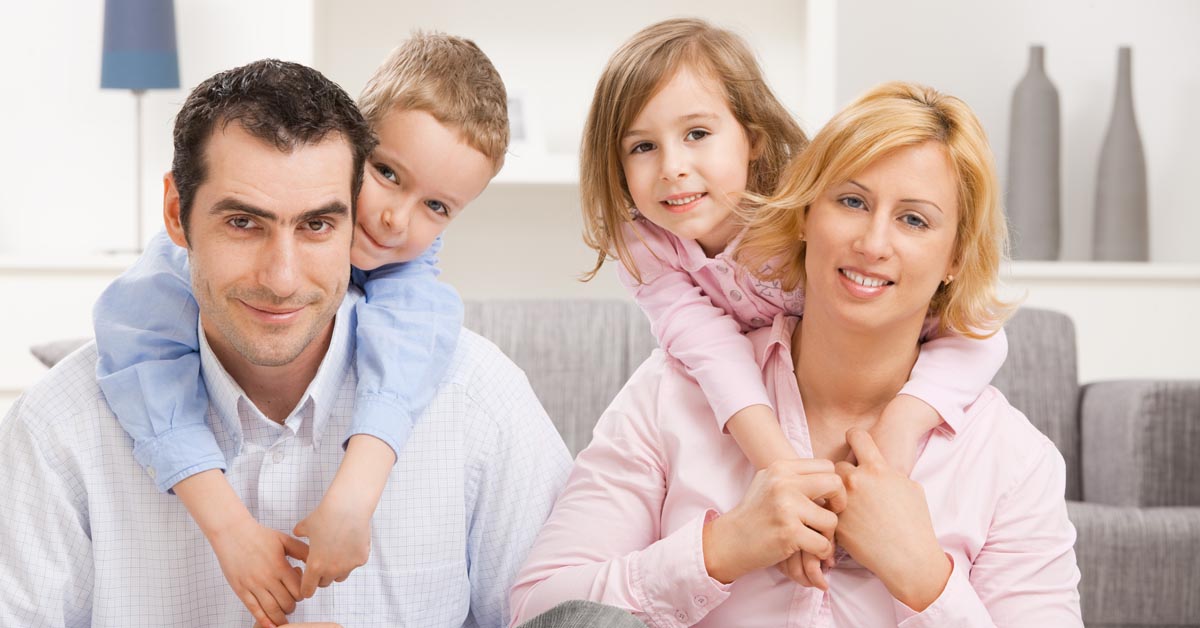 Research suggests that chiropractic can safely relieve musculoskeletal pain in children. In a 2003 study, 62% of pediatric patients had substantial reductions in back pain after receiving chiropractic adjustments.3 Treatment of musculoskeletal conditions continues to be the number one reason why children receive chiropractic care.
But chiropractic does more than treat conditions, it can help children improve their health through wellness care. In a 2009 survey, one of the primary reasons why parents took their child to see a chiropractor was for wellness care.
Current research shows that chiropractic can reduce blood pressure, heart rate, and stress hormones, release endorphins, and boost the immune system.
Whether you're hoping to ease your child's pain or improve their health, chiropractic can help.
References
1. Marchland A. Chiropractic care of children from birth to adolescence and classification of reported conditions: an Internet cross-sectional survey of 956 European chiropractors. Journal of Manipulative and Physiological Therapeutics 2012; 35 (5):372-380.
2. Humpheys BK. Possible adverse events in children treated by manual therapy: a review. Chiropr Osteopat. 2010;18: doi: 10.1186/1746-1340-18-12.
3. Hayden Ja, Mior SA, Verhoef MJ. Evaluation of chiropractic management of pediatric patients with low back pain: a prospective cohort study. J Manipulative Physiol Ther. 2003 ;26(1):1-8.
4. Alcantara J, Ohm J, Kunz D. The safety and effectiveness of pediatric chiropractic: a survey of chiropractors and parents in a practice-based research network. Explore NY 2009; 5(5): 290-5.
Latest Blog Posts
---

Meet Dr Jeremy
---

Categories
---
Tags
---
Archive
---
Why Chiropractic is the Best Solution for Sciatica Pain
Sciatica and chiropractic
Sciatica pain is often so debilitating that it forces people to miss work and other normal activities. Of all patients with low-back pain, sciatica patients have the highest level of disability (1). In fact, patients with sciatica are disabled for an average of 72 days according to Norwegian public-health records.
Fortunately, a recent study offers hope to sciatica patients: chiropractic care can speed the recovery from sciatica flare ups and allow patients to return to work sooner (2).
The study evaluated 44 Norwegian workers after they came to the hospital with severe sciatica pain. Most of those patients had been experiencing pain for three or more weeks prior to their hospital visit.
The hospital chiropractor examined each patient to evaluate his/her posture and gait, range of motion, and palpation of the lumbar spine.
The chiropractic then performed various joint adjustments to the spine and other limbs that had been injured through patients compensating for pain. Ice treatment was also used to relieve soft tissue soreness.Patients were treated daily in the hospital and later three times a week for the first two weeks. Some patients needed additional follow-up treatment but typically did not exceed 14 treatments.
In matter of 21 days, 91% of patients returned to work full-time. Two patients returned to work part time. Researchers concluded this study demonstrates the potent benefits of collaboration between chiropractors and orthopedic surgeons. Chiropractic care can put an end to your sciatica pain so you can begin living your life fully again.
Posted in
chiropractic
,
Chiropractic News
,
Sciatica
,
sciatica treatment
,
Understanding Sciatica
Arana E, Marti-Bonmati L, Vega M, et al. Relationship between low back pain, disability, MR imaging findings and health care provider. Skeletal Radiology 2006;35(9):641-7.
Orlin JR, Didriksen A. Results of chiropractic treatment of lumbopelvic fixation in 44 patients admitted to an orthopedic department. Journal of Manipulative and Physiological Therapeutics 2007;30:135-139.